Meet the scientists!
My CV
Councillor for:
11 years
Party:
Conservative
Council job:
Rights of Way Committee, County and Parishes Liaison Committee, Standing Advisory Committee for Religious Education (SACRE)
Profession:

Marion Clayton
Favourite Thing: I love the glorious countryside but also the advantage of being near London so I can get to theatres and concerts, and it's a very friendly place.
Me and my council work
I am a Frontline Councillor – and until May I was Cabinet Member for Children Services.
I have been the County Councillor for Wendover and Halton since 1999. I am also a School Governor for three Schools and a member of the Youth Club Management Committee. I currently chair the local action group, Wendover HS2, working to try to change the proposed route for the High Speed Train 2 which would be pretty devastating for Wendover.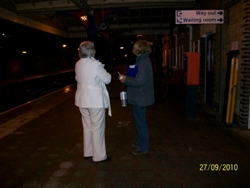 6am on the station on a wet Monday morning ready to collect signatures on the HS2 petition
My Typical Day
Often the phone starts ringing at 8.30am!
Breakfast of coffee and toast while I try the codewords puzzle in the paper, just to get the brain into working mode. Currently I get lots of phone calls and emails on HS2, and spend a lot of time planning meetings and authorising publicity and fund-raising. Maybe meetings locally or at County Hall, but not so many now I am no longer a Cabinet Member. When I can, a stroll down the High Street to meet local people, where I pick up on local concerns and opinion. There are still lots of papers to read, and often a meeting in the evening – anything from a school governing body to the local village hall management committee.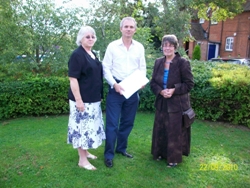 Handing over a letter re HS2 addressed to Phil Hammond, Secretary of State, to our local MPs
What I'd do as "Youth Champion"
I firmly believe that every child deserves the best opportunities we can offer, not only in education but in the wider context of opportunities outside schools, and will continue to fight for this.
Learning should be fun and something you want to go on doing even after you leave education – something I feel very strongly about as school was not a happy experience for me. We need to listen to your views on how we can best do this and in some cases how we can involve parents more in supporting their children. I will use whatever influence I have to try to make sure this happens, and that your views are heard by those who take decisions, both locally and nationally.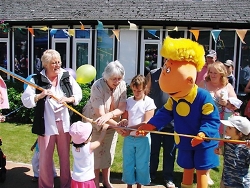 Councillors have fun too – at the opening of the Merryfield Respite Centre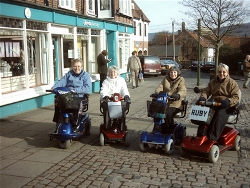 Finding out at first hand that it's no fun getting around on a scooter
My Interview
How would you describe yourself in 3 words?
Enthusiastic, cheerful and outgoing (which I definitely wasn't until I was about 30).
Who is your favourite singer or band?
The London Chamber Orchestra – sorry, I'm a classical fan. This orchestra is fantastic and I'm a real groupie.
What is the most fun thing you've done?
In the last few years, it's been joining in with the children and young people at the Fun Days we organise for looked after children and children with disabilities. I'm now an expert on the African drums!
If you had 3 wishes for yourself what would they be? - be honest!
To be 35 and know what I know now, To be able to sing in tune – when I was about 8, my mother told me I couldn't and I never sing in public! To visit New Zealand without the long journey – it's up to you young people to devise a way of doing that.
What did you want to be after you left school?
I had no idea about the future. I hated school and couldn't wait to leave at the age of 16. My career evolved through the BBC, the Atomic Energy Establishment and three children, and I ended up managing a customer complaints department before I became a County Councillor. I got involved in politics by accident, taking on a volunteer role intending it to be for six months, but that was 25 years ago. I got hooked quickly and have thoroughly enjoyed my time as a County Councillor.
Were you ever in trouble in at school?
Yes! I loathed games and PE and was always in trouble for skiving! I was managed to be last in the queue for anything energetic. My PE teacher and I never did see eye to eye.
What's the best thing you've done as a councillor?
I have loved being involved with children and young people generally, but particularly those who achieve in spite of problems – disability, disadvantage, difficult circumstances – which make it harder for them to do as well as others. But the best thing I have done is to take on the best of new ideas in education to make sure that they benefit Buckinghamshire children.
Tell us a joke.
How did the elephant get down from the tree? He sat on a leaf and waited for autumn.
My profile link:
https://buckscc.bigvote.org.uk/profile/marionclayton/

Print this profile